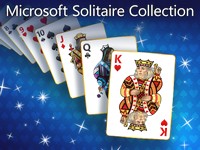 Solitaire remains the most played computer game of all time. Simple rules and straightforward gameplay makes it easy to pick up for everyone.
Play Klondike, Spider, Freecell, Pyramid, and TriPeaks. Plus, Daily Challenges.
Klondike: This version is the timeless classic that many people just call "Solitaire".
Spider: Eight columns of cards await your attempts to clear them with the fewest moves possible.
Freecell: Use four extra cells to move cards around as you try to clear all cards from the table.
Pyramid: Pair two cards that add up to 13 in order to remove them from the board.
TriPeaks: Select cards in a sequence, either up or down, to earn points and clear the board.
- Game Controls : Mouse or Touch.