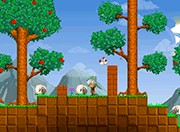 Orion Sandbox Enhanced
is a strategy, adventure and management game. You need to survive on a virgin world by collecting materials, crafting tools and armor, making improvised shelters, successfully completing missions, finding treasures, and so on.
The planet looks like a paradise by day, but when night comes, darkness can hide strange creatures and secrets.
Shape the world like you want it!
The game auto-saves every 10 minutes; you can continue next day.
- Use the arrow keys to move the avatar, Space bar to jump, and the mouse to dig and interact with elements in game.