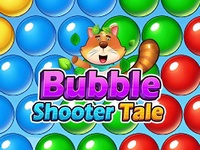 Play Bubble Shooter Tale, the bubble shooter adventure with 70 challenging levels. Make combinations of 3 or more bubbles to make them pop. Each level has its own goal, complete this goal to go to the next level, and score enough points to earn 3 stars.
You can use 4 powerups to help:
- Super aim: Lengthens your shooting time an arrow,
- Rainbow bubble: Matches with any bubble,
- Horizontal bomb: Destroys the entire row touched,
- Circle bomb: Destroys the circle around the touched row.
- Game Controls : Mouse or Touch.